Regular price
$37.99 USD
Sale price
$38.99 USD
Unit price
per
Sale
Sold out
Want to be able to convert your Neso Tent to use off the beach? Here's a solution!

- Extra anchor straps and carabiners to retrofit your Neso 1, Neso Grande or Neso Gigante.
- Durable daisy chain anchor cord with carabiner.
- Ground Screw Stakes powered by Orange Screw® patented technology.
- Conversion kit contains: 4 straps + 4 carabiners + 4 ground screw stakes + 1 clear T-Grip Tool.
Share
View full details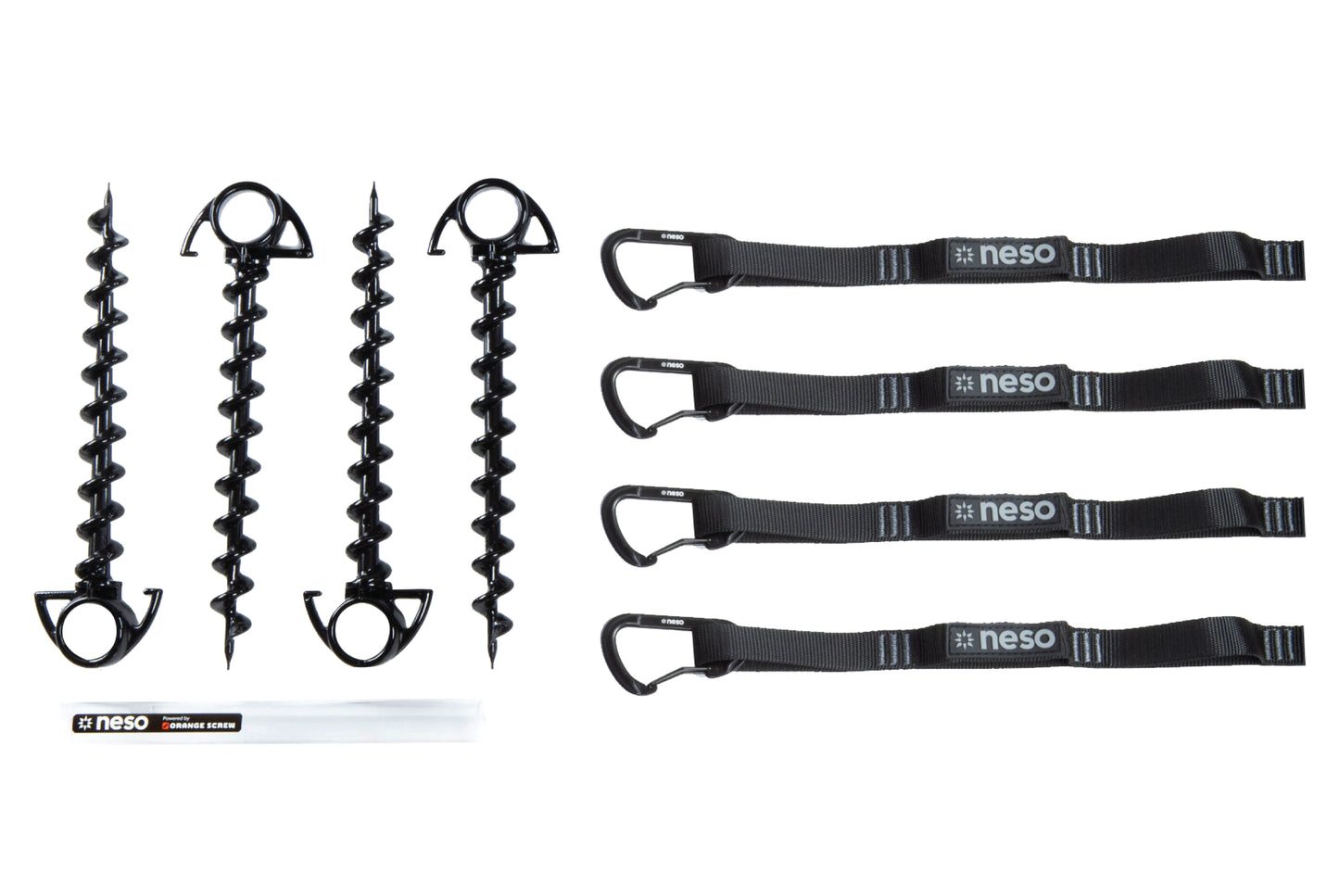 Neso Grande with sideline conversion and extra poles
Used my Grande tent with extra poles and the sideline conversion for some much needed shade between games at a youth soccer tournament. Set up was easy and so much more easy to pack and haul across the soccer fields than the bulky metal frame tailgate tents other were using. Several people stopped to ask about it.
Works well in most conditions
I don't really have a problem with the product itself. This is more of a warning as to the usability of this tent in certain scenarios. They are *not* good for extremely hard, dry, or rocky ground. Once they're in, they are great. But it can be difficult to get them into the ground fully.
For example, we tried using the screws for the tent at a soccer tournament. Once I got the screws fully into the ground, they worked perfectly. But it was extremely hard to get them fully into the ground. The ground was super hard due to a lack of rain. The only way I could get the screws to go down more than 1 inch was by squirting water into the hole. I had to drill down 1 inch, remove screw, pour water into hole, drill down another 1-2 inches, remove screw, pour in more water, repeat 4-5x for each screw. It took a long time and several attempts per screw. I also would sometimes hit a rock halfway down which meant I had to move 5-6 inches and start over.
You also need to get the screws almost entirely in the ground so they don't snap off. They're very flexible, but if they're only halfway in they bend like crazy and looked like they would snap off.
The screws themselves are fine, just be aware that you could run into challenges in certain conditions.
Neso sideline
Great adaption to the beach tent. Works extremely well. Other people at outdoor events always worry about their tents flying off. This one isn't moving. Only wish is if there was a way to make the straps shorter it would be a better fit on the sidelines.
The items in the kit look good
My vacation was cancelled so I will not be able to actually try this for a little while now
Really nice set
The set is really nice but don't forget to order the extra legs you will appreciate me later!